[  contains affiliate links ]
When I saw that Memebox came out with Nooni Apple Water lip products, I knew I had to try them.  These are for day and night time, as we should all pamper our lips, even when we sleep!  Memebox is starting to shift their focus to their house brands starting in May 2017, which include Nooni, BonVivant, I'm MEME and Pony Effect products, so look for new products in those brands!  I have not really been a fan of Nooni products at this time ~ I do like their Snowflake Balm Cleanser, but other products that I have tried from them have been okay, but heavily floral scented, which I totally dislike.  It wasn't that the products were not good, but the scents drove me to distraction.  However, Apple Water ~ how can you go wrong??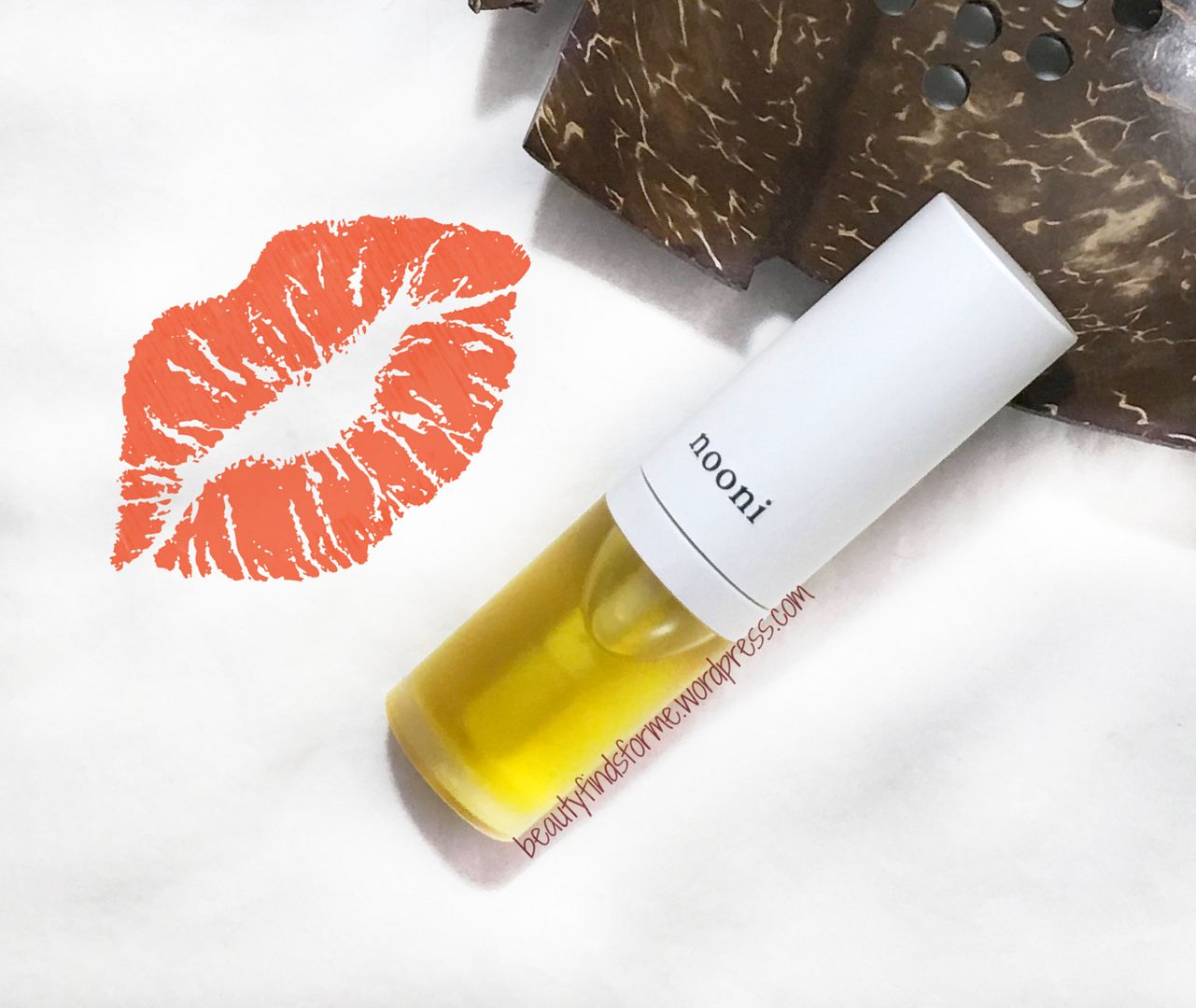 Apple Water Blending Lip Oil   I have resisted beyond belief to purchase the new lip oils from Manyo Factory but I feel short when I saw this one with apple water. It is also a little less expensive too.  Alas, apple water extract is the last ingredient 😦 However, this has a lot of nourishing. soothing and anti-oxidant botanical oils ~ sunflower, olive, jojoba, macadamia, argan, camellia, green tea, soybean, ginger, sea buckthorn, sweet almond and babassu. It also has vitamin E, which will also act as a moisturizing anti-oxidant, while AHA (alpha hydroxy acid) lactic acid will gently exfoliate your lips, removing dead skin cells and revealing new skin.  It also has an anti-aging peptide to help promote skin cell renewal. This has spearmint oil in it as well, which adds to the scent, while invigorating your lips with a slight, a very slight, tingle.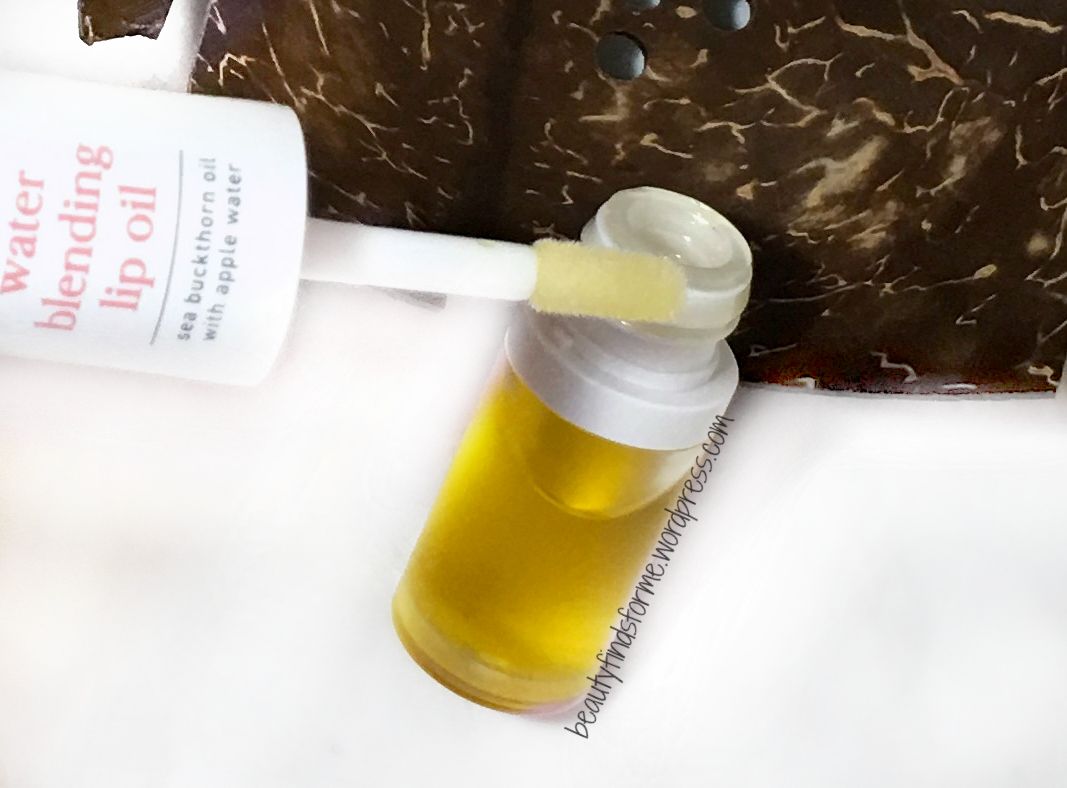 This has a nice doe foot applicator that doesn't drip and it isn't messy to remove from the bottle.  However, be careful twisting the cap back on the bottle ~ I twisted mine a bit too tight and it cracked. I used some of my Pusheen tape to tape it up and it works fine now with no leaks, but still!   The oil smells like spearmint, which is quite refreshing but it doesn't have a minty taste, nor does it burn like a lip plumper.  Don't use too much of this, as a little goes a long way ~ it is not sticky on my lips and adds a nice natural shine.  It does absorb into my lips after a while, but that is okay ~ I am not using this as a lip gloss, but as a lip treatment.  It does leave my lips feeling soft, plump and moisturized without any dryness and I am pleased to report this does not cause the skin around my lips to break out!  I was worried about that, with the oils and all.  This is a good prep step if you love to wear matte lippies ~ just let it absorb into your lips before you apply your matte lipsticks.   I also believe this is perfect for the upcoming summer months, as you want to have great lips 💋💋💋 when you go and are on vacation!   6.5mL I RV $11.00

Free from: sodium lauryl sulfate, triclosan, PEG, propylene glycol, mineral oil, parabens, formaldehyde, formaldehyde-releasers, talc, alcohol, dye, sulfates, TEA, phthalates, coal tar, MIT and silicones
Description: This silky, non-sticky oil sinks in to instantly moisturize, soften, and plump your lips. A luxe blend of 9 botanical oils derived from Sunflower, Olive, Jojoba, Argan, Macadamia, Green Tea, Soy Bean, Ginger, and Spearmint deeply moisturizes lips and nourishes with vitamins A, C, and E. Natural AHAs from Micro Apple Water exfoliate chapped and dry lips, while Mint Extract soothes and alleviates. It's an easy, effective way to love on your lips!
Ingredients: Polyglyceryl-2 Isostearate/Dimer Dilinoleate Copolymer, Helianthus Annuus (Sunflower) Seed Oil, Olea Europaea (Olive) Fruit Oil, Simmondsia Chinensis (Jojoba) Seed Oil, Tocopheryl Acetate, Macadamia Integrifolia Seed Oil, Argania Spinosa Kernel Oil, Camellia Sinensis Seed Oil, Camellia Japonica Seed Oil, Monascus Extract, Polyhydroxystearic Acid, Lecithin, Isostearic Acid, Ethylhexyl Palmitate, Polyglyceryl-3 Polyricinoleate, Isopropyl Myristate, Hydrogenated Polyisobutene, Methyl Nicotinate, Glycine Soja (Soybean) Oil, Zingiber Officinale (Ginger) Root Oil, Capsicum Frutescens Fruit Extract, Mentha Viridis (Spearmint) Leaf Oil, Hippophae Rhamnoides Oil, Prunus Amygdalus Dulcis (Sweet Almond) Oil, Ethylhexyl Palmitate, Tribehenin, Sorbitan Isostearate, Lactic Acid, Palmitoyl Tripeptide-1, Orbignya Oleifera Seed Oil, Dehydroacetic Acid, Water, Butylene Glycol, Pyrus Malus (Apple) Fruit Extract  cosDNA analysis
Apple Water Blending Lip Mask  I already love my Aritaum Ginger Sugar Overnight Lip Mask  (review here), despite the fact it doesn't smell like ginger, let alone anything else.  I have been reading on IG that some are claiming it does smell like ginger, so maybe Aritaum has reformulated it since I last purchased it ~ I am on my second tub, but it still doesn't smell like much to me.  This is a sleeping pack for me, and it contains shea butter, two types of vegetable waxes ~ candelilla and carnauba ~ with no beewax ~ it does have microcrystalline wax, but that is a product derived from petrolatum. It also has the powerful antioxidant of vitamin E and along with the same anti-oxidant, protecting and soothing botanical oils in their lip oil ~ sunflower, olive, jojoba, macadamia, argan, camellia, green tea, soybean, ginger, sea buckthorn, sweet almond and babassu. Once again, exfoliating lactic acid (AHA) for removing dead skin cells, leaving smoother skin behind, and anti-aging peptide to help aid in the renewal of skin cells. This has wintergreen extract in here, but this time, it doesn't smell like mint, but apples! It smells like apple juice and has a slight waxy apple taste to it.  These rich oils, butters and waxes create a film on your lips to lock moisture in.  The lip mask looks very solid in the jar, but it is a sticky, thick product and can be easily scooped out ~ Nooni included a sweet little spatula which I will lose.  The jar has a clear plastic bottom with a white lid, and unlike its lip oil cousin, it hasn't broken on me.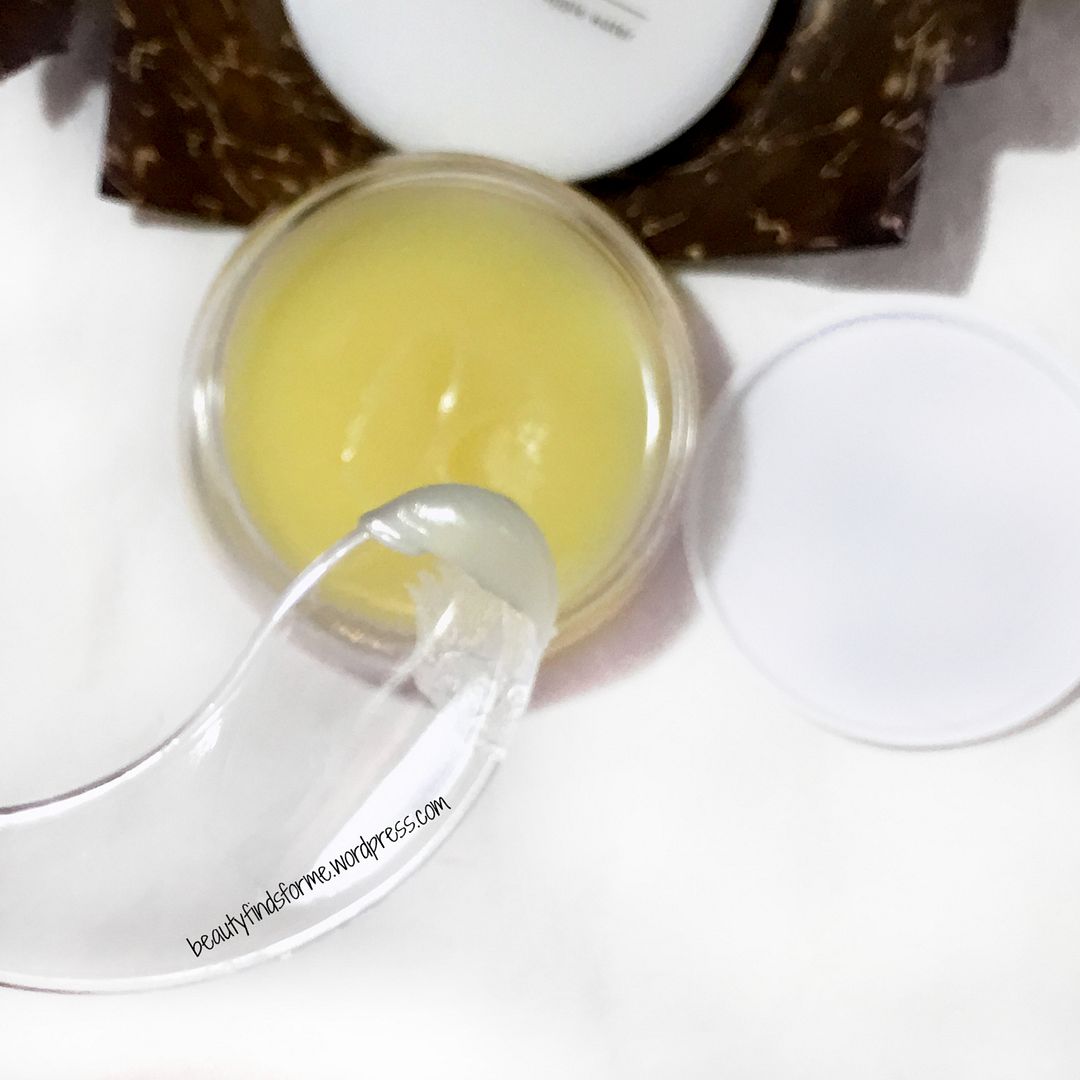 However, despite being sticky, it isn't that sticky ON my lips ~ the lip mask melts into my skin, using my body temperature and it absorbs nicely, just leaving behind enough to coat my lips for a good overnight treatment.  You don't need a lot of this product either ~ just a tiny bit goes a long way to soothe, heal and protect my lips, leaving them super soft and smooth in the morning.  You can also use this as a day time lip balm if your lips really need some extra TLC.   This isn't as big as the Aritaum lip mask ~ that was at 25 grams ~ this one is at 12 grams, and they do cost the same.  However, I was decanting the shit out of my Aritaum lip mask to friends, as there is a thing called an expiration date ~ so I am glad to have a smaller version that I will use up and a bonus ~ it smells like something ~ and that is sweet apples!  12 grams RV $11.00
Free from: formaldehyde, MIT, dye, talc, sulfates, TEA, formaldehyde-releasers, mineral oil, alcohol, sodium lauryl sulfate, PEG, propylene glycol, coal tar, parabens and triclosan
Description: Perfect in the AM as a rich lip balm and in the PM as an overnight mask, this luxe lip mask from Nooni uses natural AHAs from Micro Apple Water to gently exfoliate chapped, dry lips. Refreshing Mint Extract soothes and alleviates stressed lips, while a unique blend of 9 oils high in vitamins A, C, and E locks in moisture. The result is softer, hydrated, and more kissable lips around the clock.
Ingredients: Diisostearyl Malate, Polyglyceryl-2 Triisostearate, Hydrogenated Polyisobutene, Ethylene/Propylene/Styrene Copolymer, Butylene/Ethylene/Styrene Copolymer, Phytosteryl/Isostearyl/Cetyl/Stearyl/Behenyl Dimer Dilinoleate, Hydrogenated C6-14 Olefin Polymers, Euphorbia Cerifera (Candelilla) Wax, Tocopheryl Acetate, Polyethylene, Silica Dimethyl Silylate, Butyrospermum Parkii (Shea Butter), Microcrystalline Wax, Ozokerite, Copernicia Cerifera (Carnauba) Wax, Polybutene, Argania Spinosa Kernel Oil, Helianthus Annuus (Sunflower) Seed Oil, Camellia Sinensis Seed Oil, Simmondsia Chinensis (Jojoba) Seed Oil, Camellia Japonica Seed Oil, Olea Europaea (Olive) Fruit Oil, Macadamia Integrifolia Seed Oil, Monascus Extract, Sorbitan Sesquioleate, Hydroxyacetophenone, Hydrogenated Polyisobutene, Methyl Nicotinate, Glycine Soja (Soybean) Oil, Capsicum Frutescens Fruit Extract, Zingiber Officinale (Ginger) Root Oil, Fragrance, Prunus Amygdalus Dulcis (Sweet Almond) Oil, Ethylhexyl Palmitate, Tribehenin, Sorbitan Isostearate, Lactic Acid, Palmitoyl Tripeptide-1, Orbignya Oleifera Seed Oil, Hippophae Rhamnoides Oil, Dimethicone, Gaultheria Procumbens (Wintergreen) Leaf Extract, Water, Butylene Glycol, Pyrus Malus (Apple) Fruit Extract cosDNA analysis

Swatches
Final Thoughts
I have found my summer healing and protecting lip products!  Both of these are fantastic and they are inexpensive enough that you could get both ~ if you just want one of them, it really depends on your needs.  If your lips are not that chapped or you aren't going to be active outside in the sun this summer, go for the lip oil.  If you feel that you will need more protection and healing, go for the lip mask as you can use that day and night. One thing to remember is that these products do not have SPF in them, in case you are outside a lot.  Have you tried lip oils or a sleep lip mask?  Which ones have you tried and do you think that the Nooni ones are of interest to you? I would love to hear from my readers, so please comment below 🙂
Where to Purchase
Memebox carries both of the Nooni Apple Water lip products for $11.00 each

For my International Friends,  you have two options ~ one is eBay (click here) or Memebox Korea. If you want to purchase directly from the Memebox Korea, these are the direct links to those products
Unless you live in Korea, you will have to use a shipping service and I recommend Korean Buddy. You can save 50% off handler fee with Korean Buddy Shipping Service by using my blog url as a referral https://beautyfindsforme.wordpress.com with your first purchase
[ disclosure:  contains affiliate links ]