[ contains affiliate links ]
For those who are looking for Target Beauty Boxes, they currently went on sale!  This time, it is one box at $10.00   Click here to order
Will you get it? I am getting it for the Masque Bar, Raw Sugar and Soap & Glory products. I own the clay masks and I found them to be very heavily scented.
Target Beauty Box   $10.00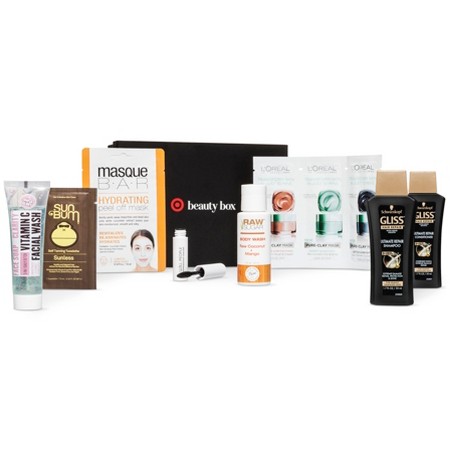 Must-haves. Can't-live-withouts. Obsessions. Try our latest faves with the Target Beauty Box. You'll find a few of the hottest new beauty products to refresh your beauty regimen for just $10 (a $38 value). Test 'em out and tell us what you think. If you love 'em as much as we do, you can find the full-sized versions at Target and Target.com/beautybox.
Masque Bar Hydrating Peel Off Mask: A skin-moisturizing sheet mask that gently removes impurities and dead skin cells as it hydrates and soothes your skin with cucumber extract, aloe, collagen and vitamin E.
Raw Sugar Raw Coconut and Mango Body Wash: Gently brightens and soothes your skin while locking in all the good oils, vitamins and enzymes that skin needs to look and feel amazing. It smells delicious, too.
Soap and Glory Face Soap and Clarity Face Wash: A non-drying, easy-rinse formula that smoothes and purifies your skin, leaving it super clean, fresh and bright. Made with superfruit yuzu and ultra-soft scrub beads.
Gliss Ultimate Repair Shampoo: Infuses your hair with keratin to repair, strengthen and restore damaged hair from the inside out, preventing future breakage and leaving hair shiny and smooth.
Gliss Ultimate Repair Conditioner: Infuses your hair with keratin to repair, strengthen and restore damaged hair from the inside out, preventing future breakage and leaving hair shiny and smooth.
Sun Bum Sunless Self-Tanning Towelette: An easy-to-use, clear formula for the face and body that exfoliates, moisturizes and works with the proteins and amino acids in your skin to produce a natural sunless tan.
W3LL PEOPLE Expressionist Pro Mascara: Creates bold, nourished lashes with pure mineral pigments and a botanical blend. A unique brush lengthens each lash and delivers just the right amount of product, preventing clumps.
L'Oréal Paris Pure-Clay Mask: A super-charged, pure clay mask that removes impurities and soothes your skin in just 10 minutes using natural ingredients for a spa-like experience.  (looks like you get all 3 types in a foil)

Number of Pieces: 8
  [ blog post contains affiliate links ]