Late last year, I was looking to compare some handcrafted felt flower pins (for some other thing I was doing) and I stumbled across this site at etsy – it is Crafts2Love and it is run by two sisters, both from Kiev, Ukraine, where Vika still lives and Nadia now lives in Hungary.
I really loved the look of this flower brooch pin and purchased it.  It was quite reasonable in its price at $15.00, not including shipping.  I received it in less than 2 weeks – not bad!!
"Eco wool felt flower brooch pin. Oatmeal silk and wool felted flower. Natural colors. Lovely hand wet felted flower brooch to add to natural modern eco style outfit. Made of un-dyed oatmeal Australian merino, the color of raw linen, with ahimsa (peace) silk in two colors and natural wool curls."
 
I was so pleased with the quality and the unique look, I took another look at their site and I drooled over this scarf for several days before puchasing it.    I have to say, every time I wear it, I get a lot of compliments on this item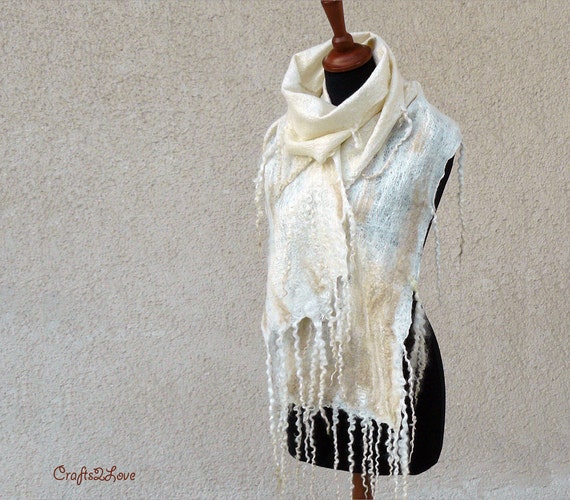 "This lovely shawl – wrap is made from soft cream white British wool and ahimsa (peace) silk and locks – no living thing was harmed in making it. First clip of long wool sheep breed provided the lovely fur fringe and beautiful unbleached peace silk adorns both sides of wrap (light cream on one and cream with antique gold silk design – on other side)."
To maintain the curly locks,  Nadia at Crafts2Love recommended putting a little leave-in conditioner on the curly locks to weigh them down a bit and not get fuzzy, as they will want to separate.   It does work!!  So, if you do purchase one of their items with the curly locks, make sure to do that.
This morning, as it is dangerous to be bored on a Saturday morning when it is raining outside, I decided to take another look as I was thinking I need something for the spring and summer months, as  my office is always cold in the summer.  I was looking for a nice lightweight scarf and this one was on sale at $39.00, instead of $59.00!  The colors scream springtime to me and woodland fairy!!  🙂  I feel like I should be an extra on The Hobbit – well, anything if that gets me close to Richard Armitage!!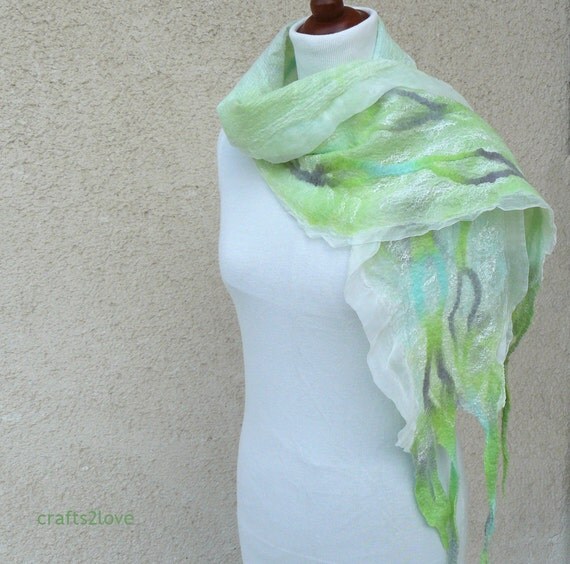 "This OOAK thin felt scarf was produces by wet felting finest (16-17 micron) hand dyed Australian merino wool onto lightest silk chiffon (gauze). Combining the two and adding streaks of white silk fiber resulted in lightweight (50 gram) scarf that is light, warmer than just silk and comfortable in wear next to skin."
 
And while I was, and just because I had a promo code from them for 15% off, I decided to get a few more things:
Another brooch  – I am in love with the wool curls!!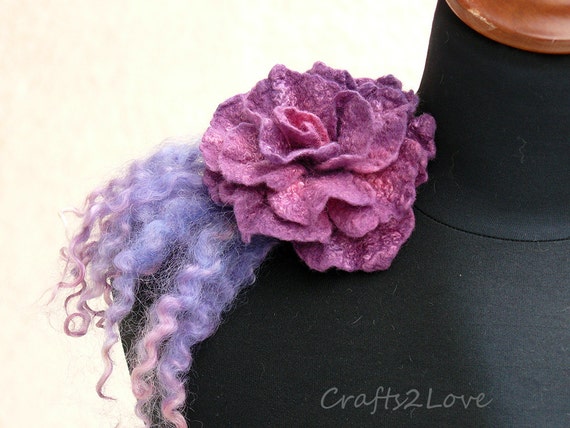 "Hand wet felted from finest Australian merino wool with silk and hand dyed. I have dyed some wool curls as well and needle felted them to hold together. Color variations add depth and charm."
A scarf for fall – I love the deep blues with the brighter pop of purple and cobalt blue, along with the unique collar on this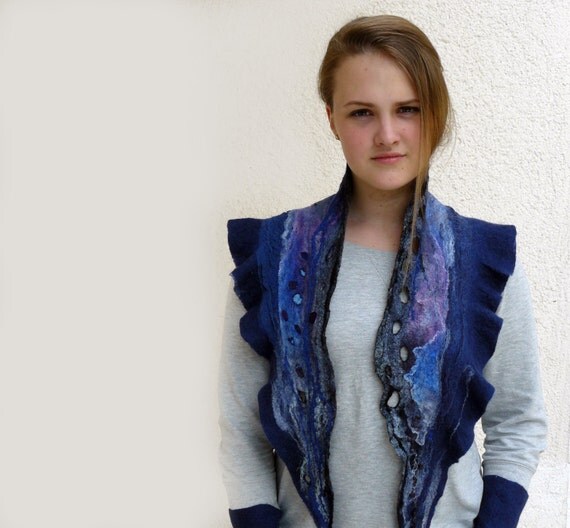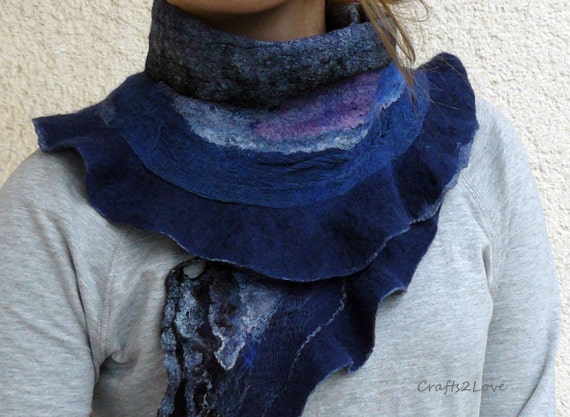 "Elegant and charming felted scarf, created by hand from softest extra fine Australian merino and silk fiber. Shades of navy blue, purple hues and black and grey accents add to it's charming mystery…"
 
And I picked up matching fingerless gloves – I wear fingerless gloves a lot in the cooler months of fall and even into the winter – not for scraping snow or anything, but normal out and about activities where I am not outside THAT long or I may be on the T and need to call or text someone..
Besides, these look so cool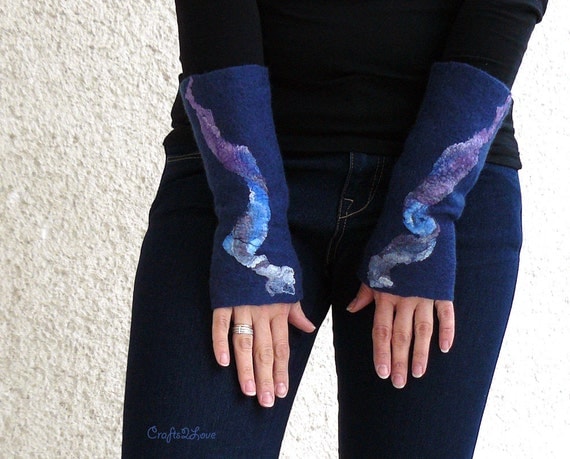 "Warm and cozy felted wool fingerless mittens (gloves) made without seams out of Australian merino wool and viscose fiber in dark navy blue. Decorated with hand dyed mawata silk."
If you love these looks, you should check out their shop.   I cannot wait to get these items I just purchased!  I want to get more things..lol…but that will have to wait.   I do want some matching fingerless gloves for the cream/gold scarf, but I am afraid of how dirty they will get!!
You can also follow them on Facebook – remember to like them! 
Let me know what you think!!
[ all images and descriptions in italics are from https://www.etsy.com/shop/Crafts2Love ]